We who serve at Fletcher United Methodist Church are thrilled to be serving such an active, faithful congregation. We welcome you to get to know us a little better.
Rev. Dr. Stephen Ray  (Pastor)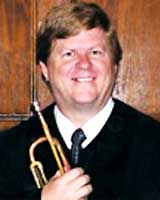 Stephen is the husband of Holly, and the father of Austin and Colleen. Stephen comes to Fletcher with a background in music and theater, having performed in over twenty plays and as a trumpeter in various groups, including a tour with the United States Army Band in Frankfurt, Germany.
Born and raised Florida, Dr. Ray has also lived in Ohio, Virginia, Pennsylvania, and Germany in addition to North Carolina.
He earned his Master of Divinity and his Doctorate in Ministry from Pittsburgh Theological Seminary. In addition to his family, Stephen loves Apple computers, jazz and classical music and cars.
Send an email to Stephen@fletcherumc.org
Belinda Winkle (Christian Education Director)
Belinda Winkle comes to us with many years experience in a variety of denominations.    As well as a comprehensive education program for the entire congregation, Belinda focuses on our youngest members.  Each member, no matter their age, should find the chance to study, to serve and to grow spiritually here at FUMC.
Send an email to Belinda.fletcherumc@gmail.com
Maribeth Hockey  (Office Manager)
A native of Rochester, New York, she met and married her husband, Robert, in 1977.  Although having no children of their own, Maribeth & Robert have a niece, Jennifer, who is like a daughter to them and whose children they consider their grandchildren.
Maribeth graduated from Monroe Community College with an Associate of Arts degree and has worked in the business world since then.  Her last position was as administrative assistant to the director of classified advertising at the Democrat & Chronicle newspaper, completing over 23 years with the company.
Maribeth and her husband fell in love with Western North Carolina while vacationing in the area and in 2007 she and Robert decided to semi-retire and the decision was made to relocate.  Maribeth's other interests include crocheting, reading, and spoiling her dog, Ginger.
Send an email to Maribeth@fletcherumc.org
Blaine Russell  (Music Director)
Blaine Russell comes to us from Virginia, where he just received his Master's Degree in Conducting from the Shenandoah Conservatory in May of 2013, following his Bachelor's in Voice at High Point University in 2011. Originally from Kosciusko, MS, Blaine loves being in the mountains but still roots for Ole Miss.
Blaine has also served as an assistant choir director of Trinity Episcopal in Upperville, VA and Music Leader at Church of the Epiphany in High Point NC.
He and his wife Christina have already become part of the family here at Fletcher UMC, and you can talk with Blaine about classical, progressive rock, and bluegrass music – all favorites of his.
Send an email to Blaine@fletcherumc.org
Christina Goings Russell  (Youth Ministries and Children's Music Director)
Christina Russell comes to us from Winchester, Virginia, where she just received her Master's Degree in Conducting from the Shenandoah Conservatory in May of 2013, following her Bachelor's in Voice at High Point University in 2011.
Christina has also served as a youth director in Winchester, VA at First Presbyterian Church after working with the youth in her hometown of High Point, NC.
In her spare time, Christina enjoys knitting, live music of all sorts, singing – especially choral music – car shows, and savoring an ice-cold Cheerwine here in the beauty of the NC mountains.
She and her husband Blaine are thrilled to be here at Fletcher UMC, where she looks forward to sharing her love of all sorts of music and enjoying the vitality of working with students.
Send an email to Christina.fletcherumc@gmail.com
Jan Kelly  (Organist/ Pianist)
Jan is a native North Carolinian, raised in the Piedmont. She has a son, David III, two daughters, Carolyn and Crystal, and four granddaughters. She received her undergraduate degree in home economics at Catawba College (Salisbury, North Carolina), her graduate degree at Hood College (Frederick, Maryland) in consumer economics, and her bachelor of music degree at Brevard College, where she has been employed as Staff Accompanist of the music department for 13 years. She taught home economics at Concord High School (North Carolina) for five years and at Williamsport High School (Maryland) for eight years.
She has lived in Hagerstown, Maryland and Newton, North Carolina prior to moving with her minister husband, David Jr. , to Hendersonville 20 years ago. She directed handbells in each location aforementioned and was director of the Saint James Handbell Choir and the Blue Ridge Ringers in Hendersonville. She has served as organist/pianist of Fletcher United Methodist Church since October of 2001 and enjoyed it immensely. Her hobbies are reading, watching movies, fashion, and being with her granddaughters .
Linda Yopps  (Treasurer)
Linda has been married to her husband Fred for 28 years, has one son, Clay, and joined Fletcher UMC in 2012.  She studied accounting at Elgin Community College and the University of Wisconsin (West Bend), and worked in public and private accounting for over 30 years, She then started her own accounting business, which continues with just a few clients since she retired from full-time work in 2010.
Even though she lived in Wisconsin for many years, her family is from Bogalusa, LA and Asheville, and she's delighted to be back in the sunny south.  She was a seasonal resident of Fletcher for 10 years, and moved to NC permanently 3 years ago.
Volunteering has always been a part of her life, having served as treasurer of Interfaith Caregivers of Ozaukee County in WI, and has been treasurer of the Milwaukee Ukulele Festival for the past four years.  She was active in her church in WI, serving on Staff Relations, Praise Team, and setting up accounting systems.
Her hobbies are reading, golf, playing dulcimer and banjo, and traveling.  Linda is delighted to have an active role at Fletcher UMC, and loves the wonderful church family here.
Send an email to Lindayopps@gmail.com
Brandi Livingston  (Preschool Director)
I grew up in the Arden/Fletcher area & love living in the mountains. I have been married to my husband Marty for 21 years & together we have two grown children, Micah & Madison.
My educational background is in Early Childhood Education. I have been a proud member of the SonShine Preschool family for 15 years & I'm looking forward to many more.
Send an email to  sonshinepreschool@fletcherumc.org
Pastor Ramon Nazario  (Casa Azul lay minister)
Ramon and his wife are the pastoral leadership for the Casa Azul Hispanic ministry, sponsored by our church, along with Mills River UMC, Skyland UMC and Avery's Creek UMC. Currently headquartered in the blue house behind Skyland UMC, the vision of Casa Azul is to connect the local Hispanic population with our local United Methodist churches.
Send an email to Ramon nazario@glm@hotmail.com