O come, let us sing unto the LORD: let us make a joyful noise to the rock of our salvation.
Psalms 95:1
Fletcher United Methodist has a wonderful music ministry with many opportunities for all ages!
Our Director of Music is Blaine Russell. If you are interested in joining any of our music groups, you may contact the church office or Blaine.    blaine@fletcherumc.org
Chancel Choir
This group sings regularly at both services, and members attend the service they prefer. Everyone from middle school age to adults is invited to join. The only requirement is that you want to sing! Rehearsals are Wednesday nights from 7:00 p.m. – 8:30 p.m.
Memorial Handbell Choir
This group rings 6 to 8 times a year during the worship services. With 5 octaves of bells, there is plenty of room for new ringers. Want to ring but have no experience or can't read music? Not a problem! We will teach you. Everyone from high school age to adults is invited to join. Rehearsals are Tuesdays from 5:45 p.m. – 7:30 p.m.
Kids Music
Children Pre-K – grade 5 meet as part of the MidWeek Connections program from September – May on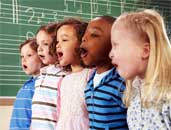 Wednesday afternoons 4:15pm-5:15pm, followed by an all-ages supper and other activities. The children sing several times a year at the 11:00 a.m. worship service, and perform special music during Advent and in the spring. Check out the full MidWeek Connections schedule HERE
Small Ensembles
Want to sing but cannot make a weekly commitment? Various opportunities are available for vocalists who are not able to make a weekly commitment to choir or handbells.  Some of the things that we have done in the past are a Men's Ensemble that sings gospel-inspired music, trios and quartets that sing Renaissance motets, and small mixed ensembles that sing on various Sunday mornings throughout the year. These groups provide music several times a year for the morning worship services and our Thursday evening ancient-modern services. Everyone from middle school age to adults is invited to join!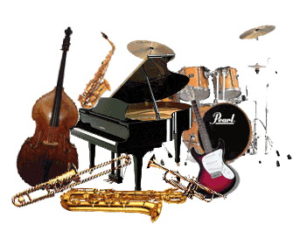 Instruments
We have opportunities for instrumentalists to play solos, play in ensembles, and accompany the choirs.
Ancient-Modern Music
Various musicians are utilized for our Anticipate: Ancient-Modern service on Thursdays at 7pm with an ear to both the heritage and future of the music of our faith. (See Thursday service schedule HERE).  Adults and youth are invited to participate! Rehearsals are at times which work best for the musicians. Contact Blaine fore more details.
Here's a little background on Blaine Russell, FUMC's Director of Music:
Blaine and his wife Christina have both graduated with their Masters Degrees in Church Music from Shenandoah Conservatory in Winchester, VA.  Prior to that, they both received their B.A.'s in Voice from High Point University. Blaine is originally from Mississippi, where he hails from a long line of Methodist ministers. He has experience conducting church choirs, leading youth, playing instruments, and singing in churches across Mississippi, Virginia and North Carolina.
Prior to being on staff at Fletcher United Methodist Church, Blaine was at Trinity Episcopal Church in Upperville, VA, as he and Christina completed their masters work.  Blaine says that he takes a particular interest in hymnology and hopes to be a conduit in helping whole new generations of worshipers become inspired by the church music of our heritage.  Blaine loves bluegrass music, Ole Miss football, collecting antiques, and RC Cola. Also, he says:
"I'm incredibly excited to be a part of the music ministry at Fletcher!"
We're happy to have you, Blaine!